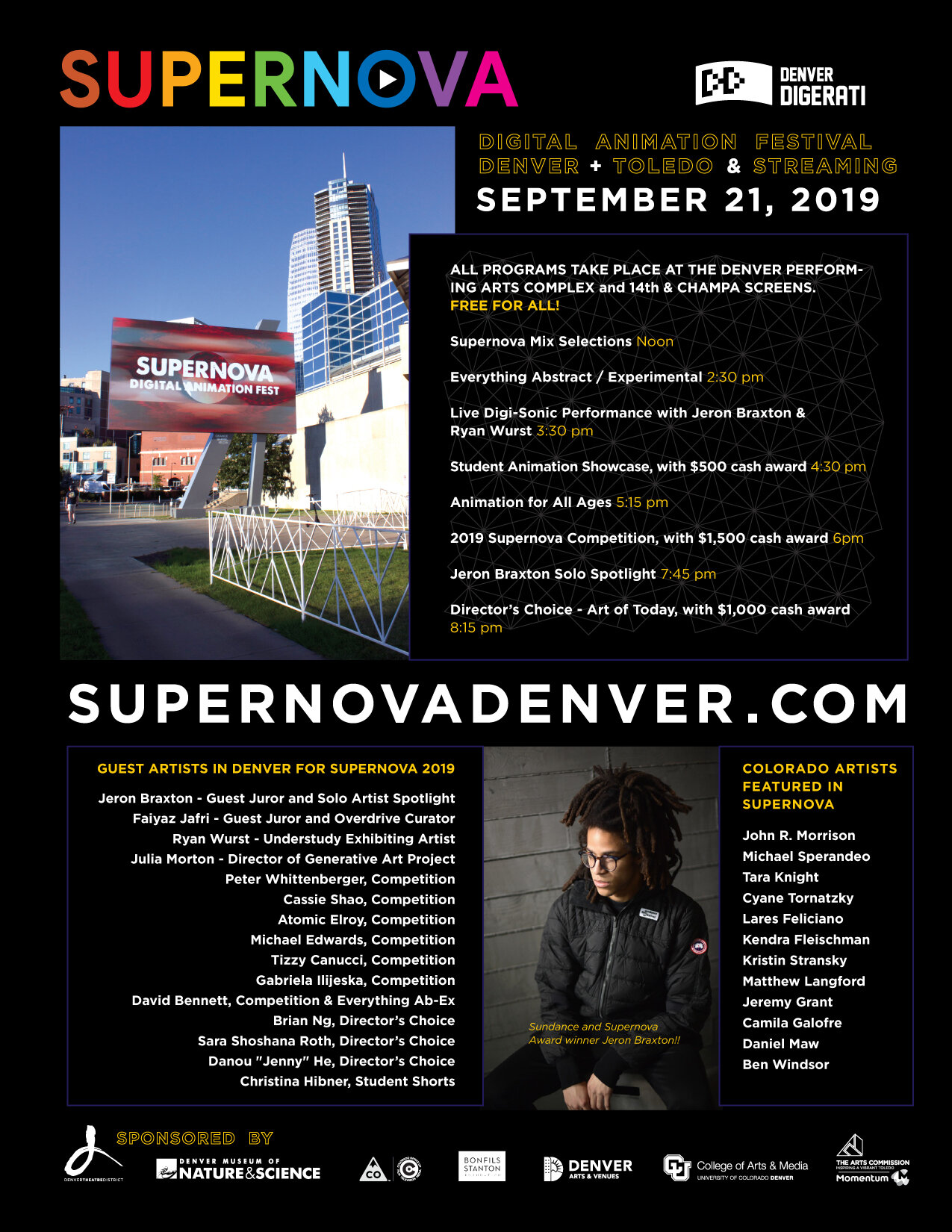 The Little Chapel of Our Holy Motherboard
Kendra and Heather Fleischman offer a spiritual awakening for Generation NOW, with a visit through "The Little Chapel of Our Holy Motherboard," a new media installation that grounds today's obsession with digital devices as a tongue-in-cheek allegory of the divine. Worshipers may sit on the benches and look through the prayer books where they will find QR codes that link to the all mighty Internet's inspirational messages, affirmations, and commandments. Eight digitally composed, screen-based inspirations offer eye-popping reflections on manifestations such as "The Adoration of the MacBook" or "The Ascension of the Drones." If your computer has a virus, your system has crashed or you've lost your cell phone, you might want to say a little prayer to the Madonna and Cyber Savior, the seductive, sculptural altar at the center of the Chapel. It's a pilgrimage that begs the question, "Where would we be without our beloved technology?"
"The Little Chapel of Our Holy Motherboard" is presented at UNDERSTUDY in association with Denver Digerati, the only entity in the heavens dedicated to advances in digital animation as the next level of Public Art, and founders of Denver's annual Supernova Outdoor Digital Animation Festival. The exhibition will offer the public the opportunity to further engage with its singular network of international animators. Join Understudy, Digerati and the Fleischman's for an artists reception, including sacraments, on Saturday March 10th from 5-8pm. The event is free and open to the public.
Kendra and Heather Fleischman are an award winning dynamic duo that have worked together on video installations, animations, and films over the past 9 years. This mother and daughter team are native to Colorado and have proudly worked and lived in the Denver area for their entire lives. They share a love of animation, art, and surreal films. Kendra is a professional artist with extensive experience in sculpture and new media installations. She also creates work in stop motion animation, experimental film and sound. Creating public art offers a unique opportunity to engage with the community and Kendra has worked with many cities, colleges, universities, and museums to bring interesting and thought provoking pieces to the public realm. Kendra received an honorable mention for her digital short "String Ballet" in the competition section of the inaugural edition of Supernova in 2016. "The Little Chapel of Our Hold Motherboard" first debuted at Currents New Media Festival in Santa Fe, NM in 2017, the only work by Colorado based artists to be featured at the international new media extravaganza.
Heather is a graduate of the University of Colorado 3D Animation program. Her main focus is cinematography and storytelling. Heather interned at Pixar Animation Studios in the Layout department where she worked on the feature film "Coco". Currently she is working as Head of Layout for the shot film Pure, a sci-fi action revolution series by Keed; and Cat and Moth, written and directed by India Barnardo. In addition she is a layout artist for The Book of Mojo, a short by Everett Downing.
Radical Vestige project prevue / SideStories RiNo 2018
Radical Vestige is an experimental assessment of memory in several acts, developed through an onslaught of visual evidence that straddles the depths of the pre and post-art history of the River North Arts District in Denver, Colorado. The production was compiled and edited in January/February 2018 for Side Stories RiNo, where it will be projected onto the facade of the building at 25th and Larimer Street, part of the historic Benjamin Moore Paint Factory, from February 21st through March 2nd.
This project features excerpts from video and animations by Alina Landry Rancier, Ivar Zeile, Mattis Dovier, Liam Young, Jan Smerak Kolouch, Nakita Diakur, Jack Wedge, Dirk Koy, Peter Burr aka Hooliganship, Chris Coleman and Quintin Gonzalez. Visual artworks referenced by Javar, Colin Livingston, Xi Zhang, Justin Beard, Donald Fodness, Drew Englander, Larry Bob Phillips and Paul Nudd. The project also features documentation of performances by Gary Setzer and Real Magic. Animated simulations were created by Zac Layman, Ryan Wurst and Jeremy Couillard.
The project was composed and edited by Ivar Zeile / Denver Digerati, with online sound courtesy of Soul Tangler / Always Human Tapes.
"Radical Vestige" Promo for Side Stories RiNo 2018 - Denver, Colorado
30-second promotion for the new video-mapping project "Side Stories RiNo" taking place February 21st through March 2nd in Denver, Colorado. Denver Digerati will present a 5 minute reel of animations curated, developed and edited for the project, creatively simulating a snapshot of sublime, largely art-related moments in the history of the district that otherwise remain lost or forgotten.
More details to come soon!
The promotion is part of a growing collection of digital animations presented in a daily rotation on a new LED facade located at 16th and Arapahoe Street in Downtown Denver.
dd@bb No.1 - Victor Morales with Dulouz and Zone Motif, Saturday January 27th at 7:30pm
Denver Digerati teams up with CU Boulder's Sonic Arts Program for an evening performance Saturday January 27th featuring SUPERNOVA animator Victor Morales collaborating with experimental music acts Duluoz and Zone Motif.
Performance will be held starting at 7:30pm at the ATLAS Institute's Experimental Black Box Theatre.
++++++++++++++++++++
Denver Digerati surges into 2018 with a robust slate of activities planned for the year. The first is a new collaboration with Boulder's prestigious Sonic Arts @ CU program with the series dd@bb which pairs digtal animators with experimental music acts for unique audio/visual performances to take place at the ATLAS Institute's Center for Media Art and Performance in the facilities Black Box Experimental Studio. The Studio offers a wide range of state-of-the-art media capabilities perfectly suited for dynamic explorations that are an evolving component within today's performance environment.
The first in the dd@bb series will take place on Saturday January 27th at 7:30pm, and will merge NYC based animator and performance artist Victor Morales with local music acts Duluoz and Zone Motif.
The collaboration was initiated when SUPERNOVA featured artist Ryan Wurst, a PhD student in the University's Intermedia Art Writing and Perfromance program, approached Digerati director Ivar Zeile following the conclusion of the 2017 festival with the idea of creating a new crossover platform. The core of the concept is to pair visual artists from Digerati's distinct network of international animators, cultivated as a result of SUPERNOVA Festival, with pioneering local musicians and sound artists for immersive experiences that tap each affiliates distinct sonic and visual sensibilities. Victor Morales was a leading choice for Zeile to initiate the series, having first discovered the Venezuelan-born animator's work in NYC during a visit to Roosevelt Island for a summer artist-in-residency program. Morales work was subsequently featured at SUPERNOVA 2016 in the Machinima and Gaming-related Art program, presenting the artists' distinct use of video game engines as simulation environments. Morales visual and experimental range widened further at SUPERNOVA 2017, with two works featured in the Music Video program and a third animation selected for the festival competition, all pairing diverse sound with the artist's rich, entrancing visual dynamics. Morales is a leader in the field of art through video game modifications and has implemented different game engines into most of the works he has participated in or created over the last decade.
Upon confirming Morales availability and interest, Wurst selected local music acts Duluoz and Zone Motif to pair with the animator in his first venture to Colorado. Duluoz is an experimental electronic music project from Denver producer Ponyrok aka Pete Nyvall, whose work as Duluoz is intended to be a journey into the unknown, an aural voyage through a darker world that provides listeners with a space to lose themselves. Zone Motif is a new outlet from Miles Hurwitz, aka Lone Dancer, that will debut with this performance, turning his focus away from the dancefloor with touches of Ambient, Dub, rhythmic experiments and spaced-out synth jams.
The trio of artists will experiment for three days with the equipment and context of the Atlas Institute, with the culmination of the synthesis taking place on the evening of the 27th starting at 7:30pm. The event is free and open to the public. The Black Box Theatre is located at Roser ATLAS Center, 1125 18th St. 320 UCB in Boulder, Colorado.
dd@bb No.1 featuring Victor Morales with Zone Motif and Duluoz
Select documentation from our initial dd@bb presented in conjunction with CU Boulder's Sonic Arts Program on January 27th. A great, great night!